Dracor Water Systems has deep roots in the water purification industry and tenured experience with all types of commercial water systems in Durham, NC. Our history is rich and spans more than 100 cumulative years of experience, giving us the exceptional insight needed to ensure complete customer satisfaction.
Our History
In 1965 Dracor's founder became involved in water purification in the Research Triangle area of North Carolina. In 1973 the company adopted the name Dracor Water Systems Inc., changing to Dracor Inc. in 1988. Today, we're staying on the cutting edge of water purification, reinvesting in new technologies and information to remain relevant in an industry that's becoming more and more critical with time.
Our Capabilities
With unique distribution systems and patented processes, Dracor Water Systems serves the pure water needs of laboratories, commercial enterprises and manufacturing plants throughout the mid-Atlantic region.
Numerous years of experience have helped us build a solid reputation of service and quality—a reputation you can depend on. We offer commercial filtration systems in Durham, Bethesda, Braggtown, and Durham County, NC for basic laboratory needs, as well as custom-designed systems for specialized laboratory requirements and critical industrial applications.
Our trained and dedicated service technicians and support staff have over 100 years combined experience in the installation and service of filtration, membrane separation, DI exchange tanks, and ultraviolet water purification systems. And, our friendly and courteous customer service desk will handle your installation and service scheduling, general inquiries and route you to the proper technical support you need. We promise complete and total satisfaction!
What We Do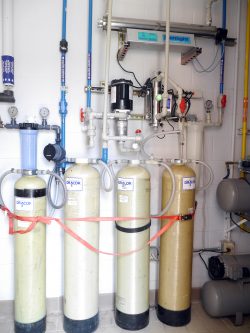 Dracor Water Systems provides a variety of purified water systems, water filtration system maintenance and service to laboratories, industry and commercial users. We get to know our customers and their requirements. Applications range from biomedical research to microelectronics, to clinical and analytical laboratories, to spot-free rinsing applications.
Our systems can be an ultrapure laboratory system for a single point of use (POU), a multiple point of use circulating loop to supply ultrapure water to a floor or building, or simply a spot-free rinse station for a building or window cleaning company.
For more information about our company or to learn more about the products and services that set us apart in the water purification industry, please contact us at 919-383-9421 today.